Tarryall Creek Colorado starts somewhere in the mountains on the West side of Fairplay, Colorado and flows East into the Tarryall Reservoir before flowing downstream into the South Platte River.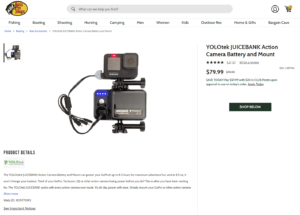 Tarryall Creek is a large creek that flows through a mountain valley, and is a gorgeous place to visit along State Highway 77. I'm always curious where certain roads lead and I finally took this road and was amazed. This is a paved 2-lane road, with a posted speed limit of 40 mph, but you don't feel like you're going slow, because the drive is so spectacular. This road doesn't get much traffic so I would recommend you visit it someday.
As you can see, you may have a hard time focusing on the creek when the surrounding mountains are so incredible.
Here is a peaceful video with the sounds of Tarryall Creek, that may help you relax a little in this fast paced world.
Check out a few more pictures you will see if you watch the video.
There is a great campground along State Highway 77 called Spruce Grove Campground, and it's situated along the river.
All the videos and Photos taken on this trip were taken with my GoPro Hero8 Black. I don't go on an outdoor adventure without it.
Sale
GoPro HERO8 Black - Waterproof Action Camera with Touch Screen 4K Ultra HD Video 12MP Photos 1080p Live Streaming Stabilization
HyperSmooth 2.0: HERO8 Black has three levels of stabilization: On, High and Boost. Get the widest views, or boost to the smoothest video ever offered in a HERO camera. Works with all resolutions and frame rates, and features in-app horizon leveling
Streamlined Design: The re-imagined shape is more pocketable, and folding fingers at the base let you swap mounts quickly. A new side door makes changing batteries even faster, and the lens is now 2x more impact-resistant compared to previous models
Expandable Mods: Vloggers, pro filmmakers and aspiring creators can do more than ever imagined with our HERO8 Black mods (sold separately). Media Mod gives you shotgun-mic performance and lets you attach Light Mod and Display Mod to up your capture game
Live Streaming in 1080p: Share while you're there. Live stream in 1080p on social media, get HyperSmooth stabilization as you broadcast via the GoPro app and save footage to your SD card to check out later
TimeWarp 2.0: Capture super-stabilized time lapse videos while moving through an activity. Automatically adjust speed based on motion, scene detection and lighting. Slow the effect to real time – savoring special moments – and then tap to speed it back up
This product was presentation was made with AAWP plugin.
Return to Home Page