Check out this incredible video of the South Platte River Lake George CO. The weather forecast was for beautiful clear skies this morning, however, the temperature at sunrise was to be around 8 degrees (F). The cold isn't as bad as some places that have a lot of humidity, so I decided to take a chance, hoping I wouldn't freeze my butt off and that the river wouldn't be frozen over.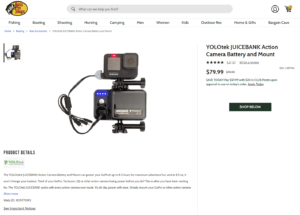 Thankfully, I was good on both issues. The river was starting to freeze up, but most of it was still flowing. The air was cool and crisp but not so bad that I was freezing. I was able to get some incredible video of the South Platte River that you can see below.
It was an incredible morning on the river and I was able to get some great video and the river sounds were awesome, as there was only about 4 cars that passed on the road next to the river. This section of the river doesn't seem to get as much traffic, which I really like.
It's always great to watch the sun rise over the Rocky Mountains. This is the best time of the day to get out as many people are working or are still asleep.
The sun had finally risen higher around 9 am, but the wind also started picking up, which isn't good for my river videos as the wind noise takes away from the sound of the running water.
I used the GoPro Hero8 Black for all the videos on the river today. It's great to have for these videos, especially when you get some underwater shots, which I did not get today.
Sale
GoPro HERO8 Black - Waterproof Action Camera with Touch Screen 4K Ultra HD Video 12MP Photos 1080p Live Streaming Stabilization
HyperSmooth 2.0: HERO8 Black has three levels of stabilization: On, High and Boost. Get the widest views, or boost to the smoothest video ever offered in a HERO camera. Works with all resolutions and frame rates, and features in-app horizon leveling
Streamlined Design: The re-imagined shape is more pocketable, and folding fingers at the base let you swap mounts quickly. A new side door makes changing batteries even faster, and the lens is now 2x more impact-resistant compared to previous models
Expandable Mods: Vloggers, pro filmmakers and aspiring creators can do more than ever imagined with our HERO8 Black mods (sold separately). Media Mod gives you shotgun-mic performance and lets you attach Light Mod and Display Mod to up your capture game
Live Streaming in 1080p: Share while you're there. Live stream in 1080p on social media, get HyperSmooth stabilization as you broadcast via the GoPro app and save footage to your SD card to check out later
TimeWarp 2.0: Capture super-stabilized time lapse videos while moving through an activity. Automatically adjust speed based on motion, scene detection and lighting. Slow the effect to real time – savoring special moments – and then tap to speed it back up
This product was presentation was made with AAWP plugin.
Return to Home Page