Check out this Somewear Global Hotspot Review and see how this satellite messenger stacks up against its competitors.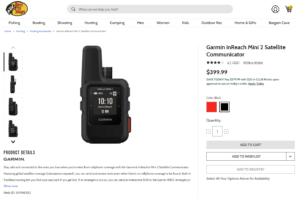 Somewear Global Hotspot Specs
Offers global coverage
Topo Maps when Synced with Smartphone
Ultralight
Compact
2-way Text communication
Bluetooth
Location tracking
Weather reports
IPX7 – Waterproof
Size = 3.6″ x 3.0″ x 0.8″
Weight = 4.0 oz.
Setup
Make sure you turn on your Bluetooth settings and pair the Somewear Global Hotspot to your Smartphone before you try to use the functions on this satellite messenger.
Now let's take a look at what the Somewear Global Hotspot offers and what the screen shots look like.
Global | Pole to Pole Satellite Coverage
The Somewear Global Hotspot offers global, pole to pole satellite coverage with the Iridium Satellite network. You can see an example of their global coverage and the satellite locations below.
Online Maps
You can choose between topo maps and aerial maps, plus you can download maps for use later.
You can zoom in to see the trailhead and maps of trails in the area.
Again, you can switch to the aerial map and see some things in greater detail.
2-Way Messaging
I have tested the Somewear Global Hotspot out many times and the 2-way messaging works great, with one exception.
A word of caution. Make sure you always test out your satellite messenger and know you have your contacts in and that you are using the device properly. I have had several times when I had to return home to update something or add something for the 2-way messaging to work.
Also, you may not be able to message between different satellite messenger brands. For example, I can't message my Garmin inReach satellite messengers unless I initiate the communication from my Garmin, then it will work well. Just make sure you understand your equipment.
Weather Forecasts
The Somewear Global Hotspot does offer weather forecasts, but there is not as much information shown as with the Garmin inReach products or the ACR Bivy Stick. You do get some helpful information though, as shown below.
Final Thoughts
This is a really good satellite messenger that offers more than most outdoor enthusiasts will need but always make sure to carry a portable charger, for both your satellite messenger and you smartphone. Actually, your smartphone may need the extra charges before your messenger.
I like the Mophie portable chargers as shown below.
mophie Power Boost XXL Power Pack- 20,800 mAh Internal Battery, Dual USB-A Charging Ports with 4.2A Power, LED Indicator, USB-A to Micro USB Charging Cord (Included), Triple-Tested for Safety
RELIABLE POWER FOR YOUR DEVICES - Never run out of battery with the mophie Power Boost XXL Power Pack that features a 20,800 mAh large internal battery to charge up to two devices at once. Works with smartphones, tablets, and other USB-enabled devices
HIGH OUTPUT CHARGING - The versatile power bank extends your device's battery by 8X. Equipped with 2 USB ports with 4.2A of power (2.1A per port), it provides +100 hours of extra battery life to smartphones, +30 to small tablets, and +20 to large tablets
INTUITIVE LED INDICATOR - The Power Boost XXL has an integrated four-light LED power indicator that notifies you of the current battery level when you press the button, and the charging status of the power station when plugged in for recharging
CONVENIENT, PORTABLE DESIGN - Featuring a portable design, this power bank is easy to carry in your pocket or bcakpack. Perfect for emergencies facing electricity outage, you can use this backup battery to boost-up your drained-out devices in a flash
INCLUDES EVERYTHING YOU NEED - The wireless charging station comes with a USB-A to Micro USB charging cable so that you can eliminate the hassle of carrying multiple wires and adapters while travelling. Just plug your smart devices and you are good to go
This product was presentation was made with AAWP plugin.
Check out the YouTube video below to get more information on the Somewear Global Hotspot review.
Please Like, Subscribe, Share, Turn on Notifications and Leave a Comment below.
Return to Home Page
Somewear Global Hotspot
World Wide Coverage
10.0/10
Tracking & Sharing
7.5/10
Initial Cost & Subscription
7.5/10
Pros
Compact & Lightweight
2-Way Messaging
SOS Distress Call
Location Tracking
Global Satellite Network
Cons
Must be Synced with Smartphone
Initial Purchase Price
Must Rely on Phone Battery Life
or Carry Portable Charger