Check Out Our New Bris Inflatable Boat Review! We're getting ready for a new fishing season on the rivers.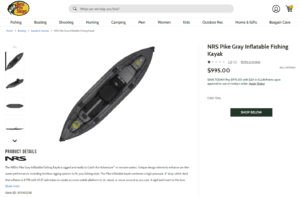 BRIS Inflatable Raft Features
BRIS 1.2mm PVC 12.5 ft Inflatable Boat Inflatable Rescue & Dive Boat Raft
Length – 12.5 feet
Width – 33 inches
Max Persons – 6 adults
Boat Weight – 180 lbs
Main Tube & Bottom Floor Fabric – 2,000 denier 1.2mm PVC
Floor – 12.5mm Aluminum Floor
Double Layer of Fabric at Bottom of Tube
Three Individual Chambers
One-way Drain Valve with Plug
Deep V-keel with Rub-Strake protection
Built-in Oarlock for Easy Rowing
Nine Interior Tie Down Stainless Steel D-rings
Two Large Tow Stainless Steel D-rings on Bow and Rear Tubes
Package Includes Inflatable Boat, Aluminum Floor, Aluminum Seat, Oars, Foot Pump, Carry Bag and Repair Kit
BRIS Packing Contents
Inflatable Boat
Aluminum Floor
Aluminum Seat/Bench
Oars
Foot Pump
Carry Bag
Repair Kit
BRIS Raft Setup
Let's start off with the fact that the instructions are completely inadequate, fortunately, I have set it up and will give you step-by-step instructions of what I had to go through to put this BRIS raft all together. See the video below.
Step 1:
Unpack boxes and check for damages and read the instructions. Note: the instructions are not thorough and you will have to figure some things out on your own…or watch the video below as Mike has to figure several things out himself.
Step 2:
Air everything up to 40% of its capacity, except for the floor.
Step 3:
Install the aluminum floor. This is where it gets more challenging and the instructions don't guide you along well enough. First, make sure the reinforced seams between the outside tubes and the flooring is separated. If this is new boat, you may find the seams are stuck together. The aluminum floor needs to fit into the reinforced seam.
Starting with the first floor at the front of the boat. Continue connecting all the flooring together until you reach the back of the boat.
The last piece of flooring is more difficult. You need to slide it under the two plastic tabs at the back of the boat.
Keep the floor tilted up toward the front of the boat, then take the other floor that you previously installed and lift it up so it basically makes a tepee.
Let the two pieces lock together and then slowly push the to pieces down to finish the floor.
Lastly, Snap the side pieces into place at the edge of the floor to secure the floor.
Step 4:
Next, finish inflating the boat/raft but remember, when you're floating a river, there are times you may want slightly less air in your tubes and other times you may want the tube aired up more.
Step 5:
Install the aluminum benches. You'll need to slide them in and position them where you would like them.
Step 6:
Lastly, install the oars, load up your raft and go enjoy the river.
Final Thoughts
I have said this several times, but you will have some trouble following the instructions as you set this raft up for the first time as they are not detailed.
Another thing to leave you with is for the price point of this boat, the BRIS inflatable raft has thicker material than most other rafts and was the primary reason Mike bought this boat.
Check out this detailed YouTube video on how to set up the BRIS Inflatable Raft.
BRIS 1.2mm PVC 12.5 ft Inflatable Boat Inflatable Fish Hunter & Person Inflatable Raft Boat
30 Days money back guarantee. All of our boats come with 3 year manufacturer warranty. Guarantee begins when product is delivered.
Premium Quality Materials : BRIS this model is made by 2,000 Dtex 1.2mm PVC fabric with polyester support, having excellent resistance to tearing, tension and breaking . It is a much more heavy-duty PVC fabric than 1100 Dtex 0.9mm PVC boats .
All seams are HEAT WELDED for perfect seaming and guaranteed to last in fresh water, salt water and extreme humidity. Most seams are quadruple overlap for maximum strength and durability and will not fall apart .
Features: durable marine plywood transom for outboard motor, double layers of fabric at the bottom of the tubes This allows 2.4mm of lower tube protection from sharp rocks and abrasive sands. deep V-keel with rub-strake protection for easy planing . three individual chambers, one-way drain valve with plug, built-in oarlock for easy rowing, transom stainless "D" lifting rings, nine interior tie down stainless steel D-ring on tubes, two large tow stainless steel D-rings on bow and rear tubes
Included: PVC Hull, Aluminum Floors Panels, 2x Aluminum Bench Seat, Repair Kit, 2x Aluminum Oars, Carrying Bag, and Foot Pump.
This product was presentation was made with AAWP plugin.
Please Like, Subscribe, Share, Turn on Notifications and Leave a Comment below.
Return to Home Page