The new Garmin inReach Mini 2 review is here and this new satellite messenger packs more power than I thought Garmin could stuff into a satellite messenger.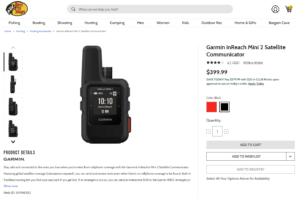 Two-Way Messaging
I first tested the 2-way messaging on the Garmin inReach Mini 2 to my cell phone. I have used the older Garmin inReach Mini for two years, so I was confident in how it worked. You can see from the left photo below that the message was sent and received. It took about 1 minute on this test for the message to be sent out via satellite.
The second test was sent to my email. That one never went through. See the right image above.
Always make sure you know what works and doesn't work before heading out on your adventure.
Weather Forecast
Next, it was time to check the weather forecast. You can get a Basic or Premium weather forecast. See the information below to help you select the right subscription plan for you that offers the weather you want. Click HERE to learn more about the Garmin inReach subscription plans.
I chose the Premium weather forecast and you can see an example of what it looks like below.
Garmin uses Dark Sky to provide weather forecasts.
Navigation by TracBack
If you ever find yourself lost, Garmin has made finding your way back to safety extremely easy with the new Garmin inReach Mini 2. I tested the Tracback feature three different ways:
Tracback when navigating out by route
Tracback when setting tracking only
Tracback when nothing was set when I started my hike
Navigating by Tracback worked perfectly in every situation, primarily because the Mini 2 lays down temporary breadcrumbs without you even knowing, so you can find your way to safety if you never started tracking in the first place. Here's an image below when I was hiking without tracking and you can still see the breadcrumbs being laid down behind me on the device.
Here's an example of hiking using a route.
You can see the route is changed to pink in front of my and behind me it turns to blue where I have already hiked. The route and breadcrumbs also show up on the Mini 2 screen.
Another way I tested the Garmin inReach Mini 2 was when I set tracking on the hike but without navigating by route.
You can see my route out, by tracking only, is shown in pink.
In all three tests, I stopped and navigated back to safety using Tracback. Here are several images of what I saw and heard on the Garmin inReach Mini 2 satellite messenger.
You can see several examples when I went off course that an alert came up with an X on the trail icon when I was heading the wrong direction, and then the trail icon with no X, when I turned around and headed the correct direction.
The Mini 2 also gave me audible alerts with this that you can see and hear in the video below.
Final Thoughts
The Garmin inReach Mini 2 does a great job automating some things like Tracback and laying down breadcrumbs. It also places temporary breadcrumbs without you doing anything or even knowing about it, which helps you navigate back to safety if you ever get lost.
The Mini 2 also shows the routes and tracking on the device itself which makes it less important to sync to your smartphone. It is convenient to have your smartphone synced, but it's reassuring to know you can do so much with the Mini 2 without having it synced to your smartphone.
Bottom line: The Garmin inReach Mini 2 is worth every penny of the $400 it costs in 2022. I can't highly recommend it enough and to be completely honest…it is my absolute favorite satellite messenger.
Garmin inReach Mini 2, Lightweight and Compact Satellite Communicator, Hiking Handheld, Black
Compact, lightweight satellite communicator enables two-way messaging and interactive SOS globally (Active satellite subscription required. Some jurisdictions regulate or prohibit the use of satellite communication devices.)
Navigate back to where you started by using TracBack routing
Share your location with loved ones back home at any time (active satellite subscription required) by using your MapShare page or with your coordinates embedded in your messages
Get accurate heading information using the digital compass — even when you're not moving
Sync with the Garmin Explore app and website on your compatible smartphone for trip planning and topographical mapping, and create waypoints, courses, activities and collections you can sync to your device
Pair with Garmin devices, such as wearables and handhelds, and use them to send and receive messages and trigger an SOS (active satellite subscription required)
This product was presentation was made with AAWP plugin.
Please Like, Subscribe, Share, Turn on Notifications and Leave a Question below. It really helps me to hear your questions and then head out into the Colorado Rockies to test the satellite messengers more to help both you and myself.
Return to Home Page