Here's my Mr Heater Portable Buddy propane heater review after spending several cold nights in Colorado followed by some warm nights after I bought my first Mr. Heater portable propane heater. Will it keep you warm. The short answer is maybe, but it sure made my Colorado nights better for sleeping.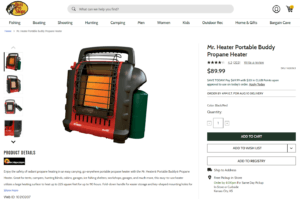 Portable Buddy Features
Indoor Safe Radiant Propane Heater
Equipped with Safety Shut-down System
Provides 115 sq ft of Coverage for up to 5.4 Hours
Easy to Use and Install Propane Tanks
High and Low Settings
Uses 1 lb Propane Cylinder
Capable of Attachment to 20 lb Propance Tank
My Experience with the Portable Buddy
I used the Mr Heater Portable Buddy near Telluride, Colorado in late September 2022. The evening temperatures dropped to near 33 degrees F. The daytime temperatures ranged from 60 to 70 degrees with some wind and rain that made things a little more miserable on several days but the days were still nice enough that the heater wasn't necessary.
It was the evenings with the wind and rain where I appreciated having the Portable Buddy, especially one particular evening when we were setting up the tent in the wind and rain and a lot of gear and clothes were soaked. That's when I really appreciated having the heat.
The Portable Buddy put out about as much heat as a campfire when on high and it helped dry out my wet clothes.
How I Used the Portable Buddy
In order to save on fuel, and also keep warm, I ran the Portable Buddy for around 1 hour on high, before going to bed, to get the tent warmed up. Running on high for an hour used up about 1/2 of the propane canister.
Before getting into bed, I switched out the canister for a new one and put the heater on low. This would get me about 5 hours of warmth before it ran out of fuel, sometime in the middle of the night.
Probably around 3 am I would wake up cold and switch out the propane canisters, which would last me the remainder of the night.
In the morning, I would switch the heater to high for 15 minutes to really warm the tent up. This worked great but I did use 2.5 canister of propane each night, so make sure you plan ahead.
Final Thoughts
I loved having the Mr Heater Portable Buddy as it was easy to use and put off enough heat to make camping on cold rainy nights much more comfortable, especially in a large tent that I was able to move freely around, even using my laptop to organize the videos of the day before returning home.
I am upgrading to the Mr Heater Big Buddy for the next trip to southwest Colorado, near Telluride, in November this year. I will be using 20 lb propane tanks with the attachments that attach to the Big Buddy, but maybe more important then that, I'll be upgrading to a 4-season tent.
I will have those reviews up sometime in late November 2022.
Check out the short YouTube video below of my Portable Buddy review.
This product was presentation was made with AAWP plugin.
This product was presentation was made with AAWP plugin.
This product was presentation was made with AAWP plugin.
This product was presentation was made with AAWP plugin.
Return to Home Page