Watch these beautiful whitetail deer doe, fawns and other friends eating peacefully in Crescent, Oklahoma.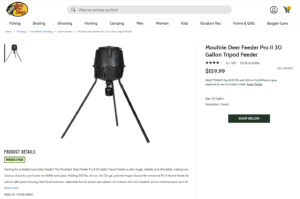 Here are some great photos of them eating together.
This mama doe is trying to save more corn for her young one.
Mike uses the Moultrie Deer Feeder Standard.
Sale
This product was presentation was made with AAWP plugin.
He also uses the ATN Day/Night scope to capture these incredible videos.
X-Sight-4k Pro 5-20x Smart Day/Night Scope w/Full HD Video rec, Smooth Zoom, Bluetooth and Wi-Fi (Streaming, Gallery & Controls)
Obsidian IV Dual Core Processor and Ultra HD Sensor - an ideal combination to satisfy your 24/7 hunting needs. Rich color palette for the daylight, sharp black-and-white image at night
Dual Stream Video Recording - Wifi Streaming and Video Recording now can be turned on simultaneously with no negative effect on performance
Ballistic Calculator feature makes every shot a kill. Point of impact is adjusted automatically with consideration of ammo type, range to target and environmental data
Recoil Activated Video - focus on the game, let X-Sight handle the routine tasks. As the scope senses the recoil, video is automatically stored on the SD card
Ultra Low Power Consumption - over 18 hours of active use. No more lost opportunities due to drained batteries
ITAR Product: Restricted for Export.
This product was presentation was made with AAWP plugin.
Return to Home Page