Take a look at this powerful Natural Atlas App that can help with hiking, hunting, fishing, nature documentation, plus is extremely easy to locate private and public lands from their maps.
Natural Atlas App Features
Hiking Trails
Nature Guide
Field Recorder
Chronicle Your Discoveries
Uses GPS to Locate

Plants
Animals
Fungi
Geology
Light
Tides
River Levels, and More

Navigate to

11,000+ Campgrounds
359,000+ Miles of Trails
46,600+ Miles of Historic Routes
23,000+ Boat Ramps
Natural Features

Multiple Maps to Choose From
Track Hikes and Note Your Discoveries

Start Recording
Search for Interesting Details
Take Field Notes
Classify Your Findings

Build Your Atlas so You Can Look Back on Your Trip or Share with Friends
Flexible Subscription Plans
You can tell from this extensive list that the Natural Atlas App is extremely powerful and is great for sharing with your friends and family.
My Favorite Features
I haven't been using the Natural Atlas App long but I was immediately drawn to the maps, especially the Public Lands maps.
There have been many times when Mike and I have been on one of our outdoor adventures and were looking for a rural camp site, but couldn't figure out if the land was private or public. Check out one of the situations below.
You can see on the map to the left up top, that there is great information but no public land boundaries. You can't see the public land boundaries on the right, but if you zoomed out, you would see them, however, when you select a point on the map, you will see it is Coal Mine Park in the Rio Grande National Forest.
This next example was really important to keep Mike and I from getting a hefty fine on the San Juan River.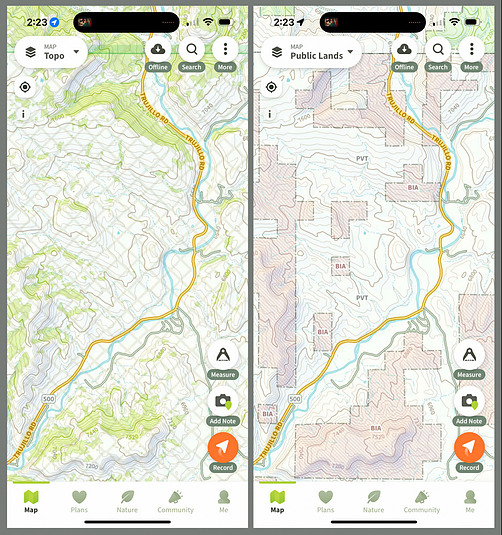 We were new to trout fishing here in Colorado, but soon found out more about what was private and public lands.
Again, you can't tell from the map on the left in the above screenshot what was private or public, but from the map on the right, you can see it's all a combination of private land and Bureau of Indian Affairs (BIA) land, and both of these are illegal to fish on, no matter if there are pull off along the river.
Final Thoughts
Mike and I do a lot of hiking and fishing around Colorado and, some hunting so it's always extremely important to us to keep a satellite communicator with us in case we need help or need to message someone, but it's nearly as important to understand what is private land and public land.
Check out this next image to see some additional map shots.
I love this feature of the Natural Atlas App.
We have a lot more video reviews I will be uploading in the coming weeks and months, but so far, the Natural Atlas App is a winner for us.
Checkout the first Natural Atlas video in this new YouTube playlist in the video below.
Return to Home Page