This Colorado camping breakfast scramble is one of my favorite things to eat for breakfast and it's easy to cook at your camp site, plus it's healthy. Try it out!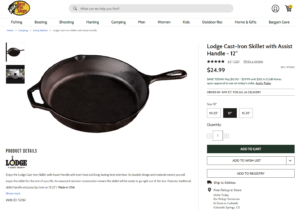 The first thing I do is to prep the vegetables for the camping trip, so I don't have to spend time cutting vegetables at the camp site.
There's no secret here, other than to use vegetables you like. Here is what I typically use in my breakfast scramble.
1/4 red onion
1/4 bell peppers (green, orange, yellow and red)
1/2 zucchini
1/2 squash
After prepping the vegetables, it's time to head to the camp site. I was near Lake George, Colorado on this camping trip on the South Platte River, North of town. I usually start with bacon when camping, and I'll use the bacon grease to saute the vegetables instead of olive oil.
Next, it's time to let the bacon cool and then crumble it to be put back in the skillet after the vegetables are sauteed. Now, add the red onion and bell peppers and allow them to sauté for 10 to 15 minutes.
Let these vegetables saute for 2 or 3 minutes and then add the zucchini and squash. Once the vegetables are sauteed to your liking, then it's time to add your eggs. You can cook them whole or break them and scramble them. I personally like to leave them whole.
Next, add your favorite cheese.
Now for the good stuff. Add the crumbled bacon.
Lastly add your tomatoes.
It's time to cover the dish, primarily to get the cheese to melt.
Let the eggs cook for 3 minutes if you like them sunny side up and 5 minutes if you like your eggs cooked through. I turn off the heat and let the eggs continue cooking while the skillet cools down.
It's time to eat!
This breakfast tastes incredible and it's easy to make, especially if you prep the veggies at home before heading into the mountains.
Check out this YouTube video of the prep and camp cooking at the South Platte River.
I like a cast iron skillet when cooking at a camp site.
Utopia Kitchen Saute Fry Pan - Chefs Pan, Pre-Seasoned Cast Iron Skillet - Frying Pan 12 Inch - Safe Grill Cookware for indoor & Outdoor Use - Cast Iron Pan (Black)
These Cast iron skillet are suitable for both stovetop and oven for evenly cooking variety of different meals; Cast iron cookware is less smoother than the Non-Stick cookware
Hand wash before first use and dry immediately; rub with a light coating of vegetable oil after every wash
Iron deficiency is fairly common worldwide especially among women so cooking food in a cast iron skillet can increase iron content by as much as 20%
Its superior heat retention will keep your mouth watering food warm for a long time
Allow cast iron skillet to cool completely before washing them in hot soapy water with a sponge using a regular dish washing liquid soap; it is not dishwasher-safe
This product was presentation was made with AAWP plugin.
Sale
Coleman Triton 2-Burner Propane Camping Stove, Portable Camping Grill/Stove with Adjustable Burners, Wind Guards, Heavy-Duty Latch & Handle, 22,000 Total BTUs of Power for Camping, Tailgating, BBQ
PORTABLE: Easy addition to the campsite, picnic, roadside, and more
TWO WIND GUARDS: Help shield and protect burners from wind
HEAVY-DUTY LATCH: Easy to open and keeps the stove closed when not in use
EASY TO CLEAN: Durable, chrome-plated grate is removable for easy cleanup
IMPROVED KNOB ROTATION: For precise temperature and simmering control of two independently adjustable burners
POWERFUL STOVE: 22,000 total BTUs of cooking power
This product was presentation was made with AAWP plugin.
Dalstrong Vegetable Chef Knife - 7 inch - Shadow Black Series - Black Titanium Nitride Coated - Razor Sharp - High Carbon 7CR17MOV-X Steel - Sheath - NSF Certified
Designed to be as sleek, aggressive and muscular looking as they are effective, the Dalstrong Shadow Black Series stands out. They're not simply cutting-edge, high-performance tools; they're a statement about you and your style as a chef.
Scalpel-like edge, hand finished to 15° per side using the Honbazuke method. Nitrogen cooled for hardness and flexibility. Titanium Nitride non-reflective coating for robustness, corrosion resistance and enhancing non-stick properties.
Midnight black ergonomic, fiber-resin and military grade G10 handle is nearly impervious to heat, cold and moisture. The handle geometry tucks snugly into the palm for a firm grasp. Full tang blade, offset handle for knuckle clearance.
Featuring high-carbon 7CR17MOV-X super-steel with an added vacuum heat treatment at 58+ HRC for extraordinary performance and edge retention. Each blade comes with a matching black space-saving sheath. National Sanitation Foundation (NSF) certified.
Dalstrong Trust: Rocksolid 100% SATISFACTION OR MONEY BACK GUARANTEE, try it risk free. LIFETIME WARRANTY against defects. Renowned Dalstrong customer service. See why over 250,000 chefs around the world trust and love, 'The Dalstrong Difference'.
This product was presentation was made with AAWP plugin.
Return to Home Page