The SPOT Gen 4 review & field test worked perfectly and is one of the most reliable and least expensive satellite messengers on the market.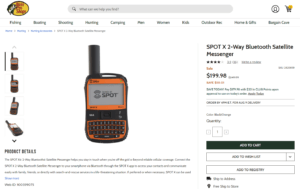 Satellite Messenger Field Test 1
I completed the first field test of my new SPOT Gen 4 on a short hiking trail in Castle Rock, Colorado. It was a quick out and back trail to work out any issues before heading out on a longer trail.
The first thing to do at your trailhead is to initiate the tracking. Your tracks won't show up right away and may take five of ten minutes to see the first track.
Next, I selected the "Check-In" message to make sure it worked.
You can see the white and sand colored check mark in the middle of the left image, plus the message it generated on the right image.
After this, I hiked farther up the trail to get a good view of the Rockies and continue my test and video review. You can see the tracking along the trail. I have shown two different maps; one with the standard view and one with the satellite view.
After reaching the top of the trail, I selected the "Custom" message to confirm it worked.
So far, everything was working perfectly.
Satellite Messenger Field Test 2
I started a second and longer test on a five-mile trail near Larkspur, Colorado, and one that had a dense forest to make sure the SPOT Gen4 worked well in a setting without a clear view of the sky.
Again, I began by selecting tracking at the trailhead and then the check-in message shortly after that.
I then headed down the trail and about 1/3 of the way into the hike, I sent a custom message to verify it also worked. By this time, I had every confidence it would work fine.
My last test was to make sure the "HELP/SPOT SOV" or second custom message test would work. This button is under the left cover, nest to the SOS cover.
Again, this worked flawlessly. The only thing to note here is that the HELP/SPOT SOV message will continue to send out messages until you turn it off, which is good, because this messages means you really need help, it's just not life threatening, or at least that's how I have mine set up.
You can see the entire trail and the different type of maps below. You have the Standard view, Satellite view and Hybrid view.
Let's talk about cost now.
SPOT Gen4 Cost & Subscription Plans
As of today, February 15, 2022, you can buy the SPOT Gen4 for around $150 but you may be able to find it on sale for $100 if you keep watching for sales.
There are several subscription plans. One is contract and the other is month to month, called the flexible plan. See the subscription plans below.
It's best to go with the contract plan if you plan on using your satellite messenger often, however, the flex plan will be better if you only go out a few times each year. You can activate and suspend your plan each month.
Satellite Coverag
This is one negative for some people that you need to be aware of and that is, it doesn not have global, pole to pole satellite coverage. There are some gaps in the coverage as you can see below, so make sure you consider this when purchasing the SPOT or the SPOT Gen4.
Final Thoughts
The bottom line for me is that this is the least expensive satellite messenger on the market, with one of the lowest monthly costs, with flexible subscription plans and is the perfect satellite messenger for probably 80 percent of the people in the world. It's simple to learn, it has the important SOS function and 1-way messaging to let your family and friends know you're okay or need help and most of us don't need any more than what the SPOT Gen 4 has to offer.
Check out the YouTube video below of the SPOT Gen 4 Review and Field Test.
Please Like, Subscribe, Share, Turn on Notifications and Leave a Comment below.
Sale
Spot Gen 4 Satellite GPS Messenger | Handheld Portable GPS Messenger for Hiking, Camping, Outdoor Activities | Globalstar Satellite Network Coverage | Subscription Applicable
MEANT FOR ADVENTURE: Spot Gen4 provides critical, life-saving line of communication when you travel beyond cell towers; Let family know you're ok or push the SOS button to send your GPS to emergency responders if you need help
NO CELL PHONE OR SERVICE-NO PROBLEM: With the Tracking feature Gen4 can transmit location updates when you are moving and when you stop; Keep one in your child's backpack for the walk home
GLOBALSTAR SATELLITE & SPOT products use GPS to determine location and transmit GPS coordinates to others; SPOT users can notify friends, family or emergency rescue their exact GPS coordinates
WHAT'S IN THE BOX: Spot Gen4 device, Strap and Carabiner, USB Cable, Batteries and quick start guide; Subscription required; Two service plans available
PURCHASE, ACTIVATE, EXPLORE: Grab a Spot Gen4; Activate by selecting your service plan; Get out there and explore the world with peace of mind
This product was presentation was made with AAWP plugin.
Return to Home Page
SPOT Gen4 Satellite Messenger
World Wide Coverage
7.0/10
Tracking & Sharing
10.0/10
Initial Cost & Subscription
10.0/10
Pros
Compact & Lightweight
SOS Distress Call
Track & Share with Friends
Rental Options
Low Initial Purchase Price
Cons
Only 1-Way Communication
So Smartphone Interface
No Navigation