Heavy duty camping chairs are the best way to enjoy time around the fire if you have the space in your vehicle and can afford to pay a little more.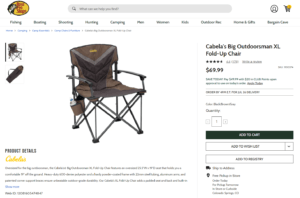 Large or Small Camping Chairs
It's an easy decision to choose a small camping chair or no chair when you set out on a backpacking trip, but what about if you're car camping? You can choose to go with a less expensive and smaller chair or you can elect to sit in comfort around the camp fire because you have more space in your vehicle and a little extra money to spend. Take a look at Mike's little blue chair compared to my larger red chair.
It seems obvious to choose a more comfortable chair when you don't have to pack it with you, but let's admit the truth. When you've been sitting on logs, rocks or on the ground, any chair will feel great.
Folding Chair Size
This Murdoch's chair is the largest and most comfortable folding chair I have ever had. It's the Mega Quad Chair and it sells for around $50. The chair is 42″ x 27″ x 43″. It has a large steel frame with extra padding all around and also at the head rest. The chair is rated for a 500 lb weight capacity.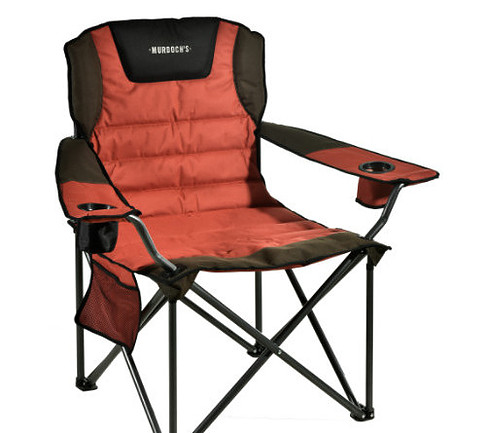 If you think this chair is only for large people, then might I suggest you may be wrong. This chair is nearly the size of most chairs you would find in most homes and honestly, it's down right comfortable for a camp chair.
What I Like Most
I love to sit back in a chair and be able to rest my head against the back without scooting way down low. This chair is extra wide with large arm rests. It's possible it may sit up a little high for some people but at 5′-11″, this chair sits perfectly for me.
This is a sturdy chair with two cup holders, a side pouch and a net pouch in the back which is perfect for holding the bag that you transport the chair in.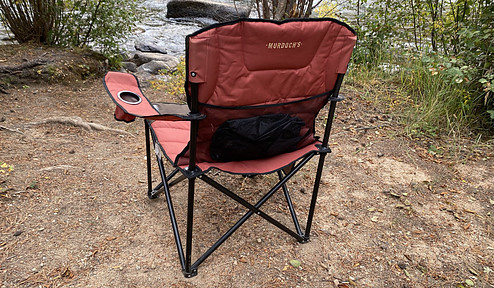 The Bottom Line
I'm not going to say this is the best folding camping chair on the market but it is the most comfortable camping chair I have ever owned.
Do yourself a favor and find a great, durable, larger camping chair that will help you enjoy your time around the camp fire more. You'll be glad you did.
Here are a few similar chairs that you can find on Amazon.
Coastrail Outdoor Camping Chair Oversized Padded Folding Quad Arm Chairs with Lumbar Back Support, Cooler Bag, Cup Holder & Side Pocket, Extra Head Pocket, Supports 400 lbs (Blue, Modern)
ITEM SIZE : Folded: 48 x 7x 1 inch, Open: 24.0 x 19.6x 42.1inches, Weight: 12 lbs.Weight capacity:400LBS. Perfect to be used indoors or outdoor activities such as Home, a Picnic, Camping, Traveling, Hiking, Patio parties, Fishing, and any other outdoor activities.
HEAD POCKET: The additional head storage bag can provide more storage space, with a pillow for neck support. Hanging on your right arm is a convenient storage organizer, which can store all your equipment. It has several pockets to keep things organized and separated.
COOLING BAG&CUP HOLDER: The fabric is made of durable outdoor quality 600D Oxford polyester. Put your drink in this built-in cooling bag (capacity of 3 cans of cola) to keep your drink cool. A convenient cup holder is built in the left arm.
ADJUSTABLE LUMBAR SUPPORT: The backrest of the outdoor camping chair has an alignment belt that can be adjusted as needed. Ergonomic design can support your waist and make you enjoy luxury and comfort.
CUSHIONED DESIGN: The cushioned seat and backrest of this chair are designed to provide you with more comfort, and the load-bearing capacity is 400 pounds. Steel frames provide higher strength and durability. The foam pad is a comfortable function that you can't live without!
This product was presentation was made with AAWP plugin.
ALPHA CAMP Oversized Camping Folding Chair, Heavy Duty Support 450 LBS Steel Frame Collapsible Padded Arm Chair with Cup Holder Quad Lumbar Back, Portable for Outdoor,Black
❤ 【Large Size】 Oversized Camping Folding Chair Size is 25.20" L x 36.61" W x 39.37"H, Weight is 13.2lbs, Large seat area with 600x 300D padded oxford fabric and padded armrest ensure comfort of this chair
❤【Maximum Loading Capacity】With hammer tone powder coating prevent corrosion and fading. four heavy duty steel frame were added to the bottom of the chair .sturdy steel frame construction make it can support up to 450 lbs and you're guaranteed a long lasting chair to enjoy outdoors all year
❤【Extra Storage Spaces】 Durable mesh cup holder and armrest at the perfect height allows you to relax in comfort.side storage pocket holds cell phone, notebook and maps,side cooler bag will keep you cool on a hot summer day!
❤ 【Portable And Easy Storage】Folding camping chair is easy to set up and fold in seconds. It collapses down to just 9.05″ x 38.58″ and Weights only 13.2 lbs that can be stored almost anywhere
❤【Supreme Comfort】 Whether you're in your garden, at the beach, camping or hiking, this quad chair is super comfy. Even use it in the home!
This product was presentation was made with AAWP plugin.
Check out this short YouTube video of the camping chair and my basic camp set up.
Please Like, Subscribe, Share and Leave a Comment below. Thanks.
Return to Home Page