Watch this video of the Wild Boar Hunting Oklahoma (Warning! Graphic Content). Mike headed out to Ashland, Oklahoma for wild boar hunting, but decided to see what it would be like to shoot a wild boar with his crossbow and night scope.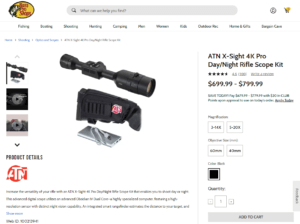 He has a feeding area with PVC tubes filled with corn and an elevated tree stand, which has proven successful on previous hunts. Now it was time to wait. Some hogs came in at dusk, but realized he was there and grunted a few times and left the area.
You have to be patient on most every hunt you go on and this night was no different. Mike had to wait about 6 hours until two medium size wild boars came back to feed. It was a cold night and Mike realized he needed some warmer boots, which he has since bought.
Mike was able to video these two wild boars for about 6 minutes before one of them turned to the side to offer him a good shot.
He wanted the white wild boar with spots, but it was the dark colored boar that presented itself for the kill.
Mike normally hunts wild boar with his AR-15 but on this hunt he used his crossbow.
He was hoping for a more spectacular kill shot but it was quiet, and the arrow passed right through the wild boar with a double lung shot. Mike since told be that he will not be using his crossbow again for hog hunting.
Now it was time for tracking the wild boar in the middle of the night, which was more challenging because Mike didn't have a good light, especially for the video.
Mike found the arrow quickly as the arrow passed all the way through the wild hog on the kill shot.
It was hard to see anything on the video while on the blood trail track, but he did find one good spot with a lot of blood, not far from where the hog finally stopped running.
Mike found the hog and then cut the hind quarters off and the tenderloin (which is also called the back strap), then made the trek back to the truck.
It was a cold night but a great wild boar hunt. There will be many more hunts this winter and you can see the wild boar hunting video below.
Mike uses the ATN X-Sight 4K Night Scope for his wild boar hunting trips. You can find out more about it in the link below.
ATN X-Sight-4K, 3-14x Pro Edition Smart Day/Night Hunting Scope
ultra hd sensor - ultra hd 4k sensor with our obsidian 4 dual core processor brings you cutting edge technology with higher resolution, faster optics, and millions of vivid colors
ballistic calculator - hunt responsibly by making sure your shot hits the target each and every time. range, wind, angle to target, temperature, humidity, plus more. helps you determine exact ballistics for expert long-range shots
dual stream video recording - you asked and we listened x-sight 4k pro not only streams video to your mobile device at hd resolution and can simultaneously record to the sd card inside
night vision mode - the x-sight 4k pro offers an enhanced hd night vision mode. don't let the darkness slow you down
ultra low power profile - no more worries about your batteries dying in the field. at 18+ hours of continuous operation the x-sight 4k will last as long as you do.operating temperature:-20°f to +120°f / -28°c to 48°c
rav (recoil activated video) - takes care of all your worries. just relax and focus on your game and let the obsidian core do the heavy lifting. this scope will automatically start to record a video before and after you take a shot
This product was presentation was made with AAWP plugin.
Leave a Comment Below, Subscribe and Turn on Notifications so you can stay up to date on our latest videos.
Return to Home Page