Here is White Tail Deer Buck | Video in velvet, near Crescent Oklahoma. I don't need to say much other than to watch the video below.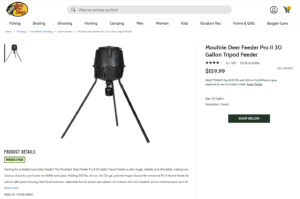 Mike uses the Moultrie Deer Feeder Pro II.
Sale
This product was presentation was made with AAWP plugin.
Here area a few still photos.
The video was taken with an ATN Corporation Day/Night Scope.
Sale
Moultrie 30-Gallon Deer Feeder Pro II Tripod, Pro Classic II Feeder Kit
Heavy-duty polymer hopper holds more than 200 pounds of corn
Fill height of 5.5 feet for easy ground-level access
Included Pro Classic II Feeder Kit includes plastic spin plate, adjustable funnel, ABS plastic housing, feed-level estimator, battery indicator and external power port
Digital timer programs up to 10 feed times per day, 1 to 60 seconds long
Quick-Lock adapter mounts to any barrel or hopper
Requires One (1) 6V Battery (Not Included)
This product was presentation was made with AAWP plugin.
X-Sight-4k Pro 5-20x Smart Day/Night Scope w/Full HD Video rec, Smooth Zoom, Bluetooth and Wi-Fi (Streaming, Gallery & Controls)
Obsidian IV Dual Core Processor and Ultra HD Sensor - an ideal combination to satisfy your 24/7 hunting needs. Rich color palette for the daylight, sharp black-and-white image at night
Dual Stream Video Recording - Wifi Streaming and Video Recording now can be turned on simultaneously with no negative effect on performance
Ballistic Calculator feature makes every shot a kill. Point of impact is adjusted automatically with consideration of ammo type, range to target and environmental data
Recoil Activated Video - focus on the game, let X-Sight handle the routine tasks. As the scope senses the recoil, video is automatically stored on the SD card
Ultra Low Power Consumption - over 18 hours of active use. No more lost opportunities due to drained batteries
ITAR Product: Restricted for Export.
This product was presentation was made with AAWP plugin.
Return to Home Page