Here is an 18-inch beautiful rainbow trout we caught near South Fork, Colorado in October 2020.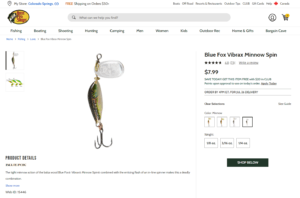 We drove down from Wolk Creek Pass, between Pagosa Springs and South Fork, Colorado, on US-160, and notice what looked like a great river for trout fishing. We were heading home from a week fishing trip in Pagosa Springs, but made a note to fish this area in the future. We were both thinking it would be next year, but it happened to only be about 2 weeks later.
We set up camp on County Road 380, about 5 miles from US-160, in a beautiful Colorado mountain valley with aspens turning yellow all around us. It was the first week in October 2020. The aspens will start turning yellow around the middle of September and go through the first week or two in October, depending on the year, altitude and what part of the state you're in.
We it the road early Friday morning, but had to stop for breakfast before we started fishing. Good thing we did because we witnessed an American Bald Eagle circling overhead, which Mike said was a sign of good luck.
It was only a half an hour later when we found what we hoped would be a great place to fish. The aspens were a brilliant yellow and golden color, and whether we caught a fish or not, it was bound to be one outstanding day.
I believe it was about the 5th or 6th cast, into what became our favorite fishing hole, before Mike landed the largest rainbow trout of his life. Up to this point, Mike had mostly been a bass fisherman.
This is where the fun begins.
This is the lure we caught this monster with.
Blue Fox Vibrax Minnow Spinner, 1/8-Ounce, Rainbow Trout/Silver
Great for muskee, pike and bass fishing
Balsa wood design keeps the lure semi-buoyant for a realistic retrieve
Flashing spinner reflects light into the water, driving the predatory instincts of game fish to initiate a strike
Spinning action disturbs the water, drawing in fish that may not otherwise see the lure
Size 2 Blade
This product was presentation was made with AAWP plugin.
It won't be long before he get's it into the net.
We were shocked to see how big this rainbow was as so many people said the rivers were over fished.
At last, it was time to let this beautiful rainbow trout go back to the river.
I have never seen a large rainbow trout this close.
Well, doesn't that make a beautiful Colorado Fall day even better?
I didn't think this day needed anymore to make it gorgeous.
Check out the YouTube Video below.
Sale
This product was presentation was made with AAWP plugin.
Return to Home Page