Take a close look at my Hilleberg Anjan 2 Tent review and see why I believe it is one of the top 3-season tents on the market.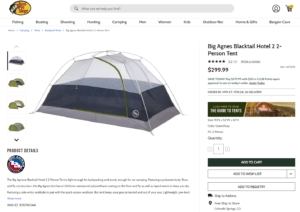 Pitching the Tent
The first thing before I tell you about pitching the tent is strange but one of my favorite things.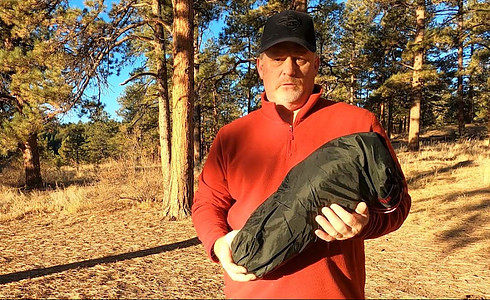 Besides the tent being small and compact, It comes with a larger than normal bag that makes it easy to re-pack and you can actually get it put back without having some of it stick out, like what happens with most tent bags.
The tent comes with two lightweight poles that slide easily through the sleeves and hook in on both sides. After sliding the poles through, it's time to stake the two back side of the tent, followed by the two front sides. The tent has four guy wires or cords to stake diagonally on each side to give the tent more stability in adverse weather.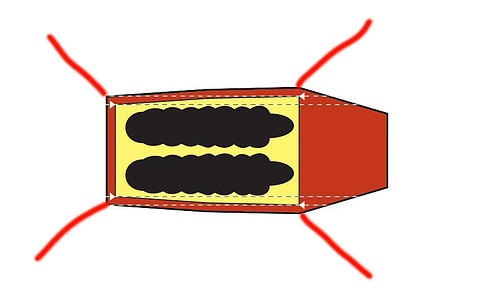 The tent sets up really quick and they rain fly is attached to the inner tent so you don't have to attach the rain fly after you pitch the tent. This is a double walled tent which keeps dew or condensation off the tent, especially when you wake up in the morning and accidentally roll over, getting soaked because you touched the side of the tent.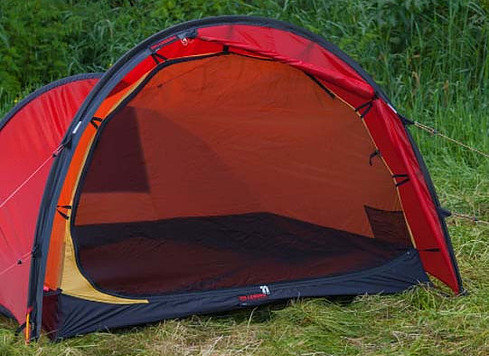 This tent allows you to sleep two people or one person with some gear and you can sit up without hitting the top of the tent.

Of course, you can't stand up in it, but you'll love the room you have, especially when you had to pack in on a trip and are looking forward to some shelter, warmth and comfort.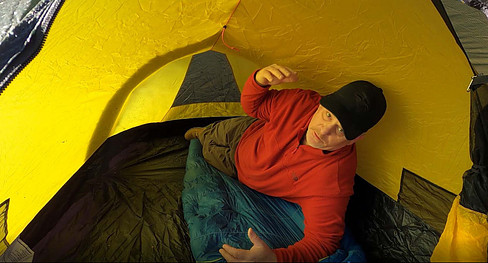 I have had many backpacking tents in my life, some were so small you could hardly slide into them, and others were so roomy that you could hardly get them packed into your site. This one is perfect as it comes in a small package at only 3.5 pounds but it has enough room to be comfortable on your outdoor trip.
Anjan 2 Features
Double Walled Tent
Two Person Tent
Front Entrance Tent Door
Back Screen Window
Lightweight – 3.5 lbs.
Two Interior Pockets
Bottom of Tent Wraps up the Sides about 6 inches to Help with Waterproofing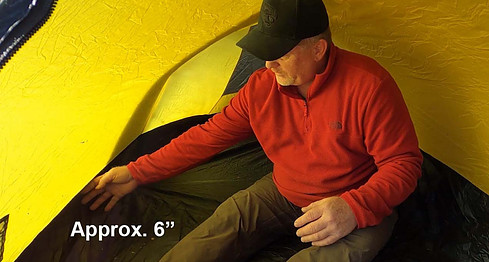 The tent also has a back screened window that you can expose by rolling up the back of the rain fly.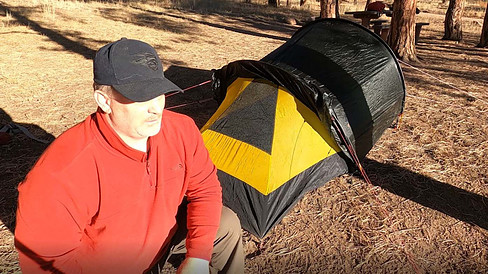 Final Thoughts
This Tent is so easy to set up and it's perfect for your pack. I was looking for a lightweight tent, that was waterproofed and rugged. This tent is a little expensive but it's worth every penny. You get what you pay for and this has been the best tent we have ever owned. Hilleberg makes great tents, and the Anjan 2 is not exception.
Hilleberg tents are not available on Amazon but here is a tent that is similar to the Anjan 2.
ALPS Mountaineering Tasmanian 2 Person
There's no assembly frustration with our Tasmanian Tent series, this aluminum, free-standing pole system is ideal for a quick setup
Polyester fly will resist water and UV rays while adding two vestibules for extra storage
Easy entry and great ventilation with two doors, both with zippered mesh windows
Fully equipped with #8 zippers mesh storage pockets gear loft aluminum stakes and guy ropes
Base Size: 5'2 x 7'8, Center Height: 46", Total Weight: 7 lbs. 10 oz. , Minimum Weight: 6 lbs. 11 oz. , Color: Copper/Rust
This product was presentation was made with AAWP plugin.
Check out this short video and see a more detailed review of the Hilleberg Anjan 2.
Please Like, Subscribe, Share and Leave a Comment below.
Return to Home Page