It was our first time out trout fishing in Colorado, and it was Mike's first time trout fishing. This fishing trip near Pagosa Springs, Colorado was all about finding rivers and creeks that had not been over fished and finding trout fishing lures that worked.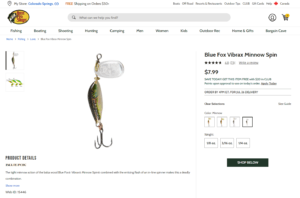 Over Fished Rivers and Creeks
Mike was in need of a relaxing vacation and we decided on a perfect weather week in the area around Pagosa Springs, Colorado. This trip wasn't supposed to be mostly about fishing but that's what it turned into.
We found what we thought would be a temporary camp site on the East Fork of the San Juan River, about 10 miles north of town. We found a great camp site on a bend in the river with beautiful pine tress and rock cliffs around us. Mike had a horrible summer and really needed this getaway, plus some sleep. He normally only sleeps for about 4 hours each night, but on this night, he fell asleep to the roar of the river and woke up 10 hours later to the best night of sleep in a long time.
Mike woke up early and was eager to see if there were any trout in this river. Try as he may, he never even had a nibble the entire week.
Mike started out with a small Mepps Comet spinner lure he had picked up from Walmart in Oklahoma City. He didn't have any luck on this river but he did later in the week at other locations.
This product was presentation was made with AAWP plugin.
We headed into town for supplies on our first morning in Colorado, and Mike picked up several spinner lures after talking to some local fishermen. The local Malmart had a great selection of Mepps spinners. As I mention earlier, Mike has fished his entire life but had no experience with trout fishing.
I had talked to a forest service agent in Pagosa Springs a few days prior to the trip and was told that fishing the reservoirs would be more successful as the rivers and creeks had poor results due to the drought and over fishing.
We headed to the Vallecito Reservoir, northeast of Durango for our first try at trout fishing.
Mike watched one fisherman catch two trout within about 10 minutes so he headed over to ask what bait or lure he was using. He found out that he was using salmon eggs and was fishing off the bottom of the reservoir.
Mike didn't have the right tackle for fishing off the bottom but he decided to try his luck anyway with the Blue Fox Super Vibrax 1 minnow spinner lure. Lesson learned…listen to successful fishermen and use the right gear.
This product was presentation was made with AAWP plugin.
We headed over to the east side of the reservoir where a Los Pinos River was dumping into the lake and got our first trout catch.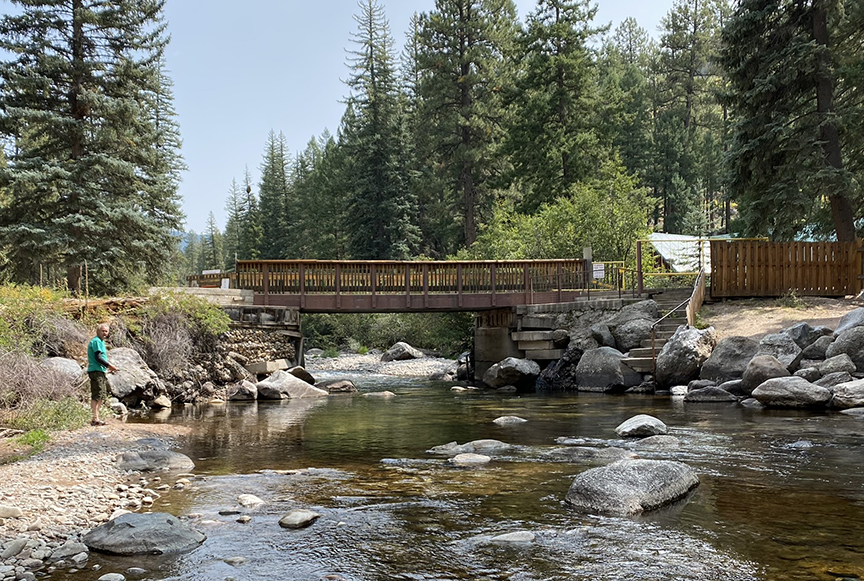 I believer Mike had a hit on the line on his first cast into this fishing hole. He started out using the Mepps Comet 0 at this fishing hole. I believe Mike caught 4 small trout here. Mike will keep some of the fish he catches, but on this trip, it was all catch and release. This whole week would become a great learning experience for trout fishing in the Rockies. This is the lure mike used in the photo below.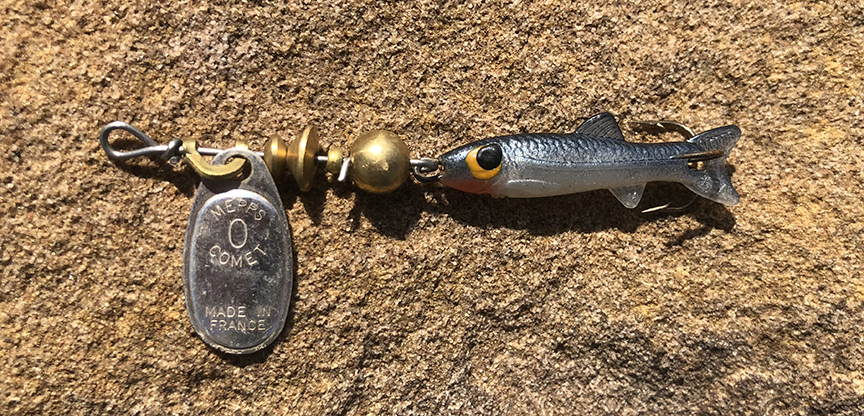 We decided to head up the river but found that the entire area seemed to be privately owned with plenty of no fishing signs. After getting back into cell phone coverage, I called the game warden in Durango to clarify the rights and responsibilities of fishermen in Colorado.
The short answer is that you must keep to lakes, rivers and creeks that are on public land. You cannot fish off any road, even if the river is next to or on the roadway right-of-way. It is the fishermen's responsibility to abide by the laws in Colorado and a property owner does not need to post no trespassing signs to let you know you are on private property, according to Colorado State law.
Next, we headed over to the Lemon Reservoir and were fortunate to get a few catches on the north side of the reservoir on the Florida River. Mike used the Blue Fox Super Vibrax 2 lurein this area. He didn't get a lot of bites but enough to make him happy.
One interesting note was when he found around 40 Kokanee Salmon hanging out in a pool, below some rapids, and we were able to watch them attempt to jump the small waterfall and head upstream.
No lure mattered to these salmon as they were getting ready to spawn and had no desire for food, or distractions. You'll have to trust us when we way the salmon are resting there in the water. I know, you're thinking it's the big fish story getting bigger.
We headed back over to the San Juan river around Pagosa Springs to see if the river was really fished out. We had to look hard for some fishing holes that looked promising and were rewarded with some gorgeous trout.
Mike tried three or four different spinner lures, shown below, but one of them seemed to have much more success then the others.
The Blue Fox Super Vibrax 1 minnow spinner was by far the best lure of the week in September 2020.
Here are a few of the beautiful trout we caught during the week with this lure.
Mike learned a valuable lesson on this trip about how to get the hook out of the trout. Mike is a serious bass fisherman and has always lipped the fish, and he didn't realize how sharp the trout fish teeth are and now has a bloody thumb to prove it. See the video below.
We fished a few more rivers and creeks later in the week and Mike had some success with a red fly spinner.
This product was presentation was made with AAWP plugin.
We had an incredible time here in the Rocky Mountains around Pagosa Springs. Check out this video below for some of the fishing and scenery in the Colorado Rocky Mountains.
Please Email Us with your questions or thoughts on the lures we used or Leave a Comment Below.
This product was presentation was made with AAWP plugin.
This product was presentation was made with AAWP plugin.
Return to Home Page