Check out this USB Charging Station Review and see how it has helped Mike and I when out on long outdoor adventures when we need to charge several devices at night.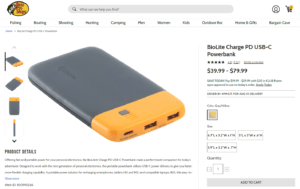 How we're Setup for Charging
Mike and I spend 10 plus hours out each day when on our outdoor adventures and I'm collecting a lot of video and audio during that time.
The only way I can keep things running smoothly as the "camera guy" is to download all the video and audio files each night, plus re-charge all of my equipment.
This would not be possible without the help of three things.
Marine Battery
Large Power Inverter, and a
6 Port USB Power Station
Checkout an image below of how I have this setup inside my tent.
I do recharge my laptop directly from the POTEK 2000W Power Inverter, but most of my equipment is charged from the Inverter via the Anker USB Charging Station.
This last year was the first time I used this triple combo and it worked perfectly.
I was able to charge all of my devices over a five-day fishing trip to the Miramonte Reservoir in Southwest Colorado.
The Anker Multi USB Charging Station was a critical part of making all of this happen. After long days of fishing and videoing, I would retire to my tent, cook dinner, while re-charging all of my devices. I was extremely impressed how well this all worked.
I highly recommend you take a look into this setup and you can see more in the YouTube video below.
Anker Charger, 60W 6 Port Charging Station, PowerPort 6 Multi USB Charger for iPhone 14/Pro/Pro Max/13/12, iPad Pro/Air/Mini, Galaxy S23/S22/S21, Note 20 Ultra, LG, HTC, and More
The Anker Advantage: Join the 50 million+ powered by America's leading USB Charging Brand.
Advanced Charging Technology: PowerIQ and VoltageBoost combine to provide the fastest possible charge up to 2.4 amps per port or 12 amps overall (Does not support Qualcomm Quick Charge).
Ultra Powerful: 6 ports pump out 60 watts of power, enabling simultaneous multi-device charging.
Certified Safe: Anker's MultiProtect safety system and UL certification ensures complete protection for you and your devices. Worldwide 100-240 volt AC input voltage.
What You Get: Anker PowerPort 6 (60W 6-Port USB Charging Hub), 5ft / 150cm detachable power cord, extra hook-and-loop strip, welcome guide, our worry-free 18-month warranty and friendly customer service.
This product was presentation was made with AAWP plugin.
POTEK 2000W Power Inverter 3 AC Outlets 12V DC to 110V AC Car Inverter with 2A USB Port
[2000WATT POWER INVERTER]Provides 2000 watts continuous power, 4000 watts surge power to charge your multiple electronic device slavery on the go
[MULTI-PURPOSE CHARGING]Three AC outlets and one USB charging ports perfect for charging your TV,freezer,flood lights, microwaves, refrigerator, and other electronics
[MULTI-PROTECTION]This power inverter has over voltage, overload, over-current, under-voltage, overheating, short circuit protection
[INTELLIGENT TEMPERATURE CONTROL]Built-in cooling fan only starts working when temperature is over 104℉ and 8 internal fuses makes it safer when using the Power Inverter, ideal for use on road, at campsites, remote job sites or anywhere AC power is needed
[WHAT YOU GET]: 1x 2000W Power Inverter, 2xCar Battery Cables,1xGround Wire, 1xUser Manual and our friendly customer service.
This product was presentation was made with AAWP plugin.
Sale
Renogy Deep Cycle AGM Battery 12 Volt 100Ah, 3% Self-Discharge Rate, 2000A Max Discharge Current, Safe Charge, Appliances for RV, Camping, Cabin, Marine and Off-Grid System, Maintenance-Free, Gray
【Warranty】2-year material and workmanship warranty guarantee.
【Maintenance Free & Safe to Use】No acid leakage, no water refilling, and no harmful hydrogen gas. Manufactured with thick absorbent glass mat (AGM) separators and advanced valve-regulated technology, Renogy Deep Cycle AGM Batteries save you from acid leakage and frequent maintenance.
【Better Performance at Extreme Temp】The improved electrolyte formula ensures stable battery capacity and outstanding discharge performance from 5℉ (-15℃) to 122℉ (50℃).
【Longer Shelf Life】No need to recharge the battery frequently when not in use. Made of high-purity materials, Renogy Deep Cycle AGM Batteries reduce the monthly self-discharge rate below 3% at 77℉ (25℃), which is 5 times lower than their flooded counterparts.
【Outstanding Discharge Performance】Proprietary quinary alloy plates and exclusively treated plate grids enable low internal resistance and high discharge currents of up to 10 times the battery-rated capacity. This means that Renogy AGM batteries can power home appliances with high current ratings.
【Power Most Appliances】Featuring 1100A (5 seconds) max discharge current and consistent, stable discharge, the battery can power up most home appliances, such as a fridge, microwave, CPAP, coffee maker, laptop, and more.
This product was presentation was made with AAWP plugin.
Return to Home Page