Watch these Incredible wild boar hunting videos near McAlester, Oklahoma!
We used a standard AR-15 .223 round on these wild hog (wild boar) hunts. The night scope used was the ATN X-Sight-4K Pro Smart Day/Night Scope w/Full HD Video/Recording, including smooth zoom, Bluetooth and Wi-Fi streaming.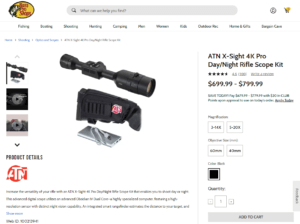 The wild boars can appear at any time but more so at dusk when it cools down. The later in the night the better, and the big boars normally show up after midnight. They are difficult to kill and scatter quickly after the first shot.
ATN X-Sight-4K, 3-14x Pro Edition Smart Day/Night Hunting Scope
ultra hd sensor - ultra hd 4k sensor with our obsidian 4 dual core processor brings you cutting edge technology with higher resolution, faster optics, and millions of vivid colors
ballistic calculator - hunt responsibly by making sure your shot hits the target each and every time. range, wind, angle to target, temperature, humidity, plus more. helps you determine exact ballistics for expert long-range shots
dual stream video recording - you asked and we listened x-sight 4k pro not only streams video to your mobile device at hd resolution and can simultaneously record to the sd card inside
night vision mode - the x-sight 4k pro offers an enhanced hd night vision mode. don't let the darkness slow you down
ultra low power profile - no more worries about your batteries dying in the field. at 18+ hours of continuous operation the x-sight 4k will last as long as you do.operating temperature:-20°f to +120°f / -28°c to 48°c
rav (recoil activated video) - takes care of all your worries. just relax and focus on your game and let the obsidian core do the heavy lifting. this scope will automatically start to record a video before and after you take a shot
This product was presentation was made with AAWP plugin.
Note: Wild boars are an invasive species in Oklahoma, and as such the Oklahoma Department of Wildlife Conversation office allows for unlimited hog kills and no limits to hunting at night.
This first video was taken on September 7, 2019 near McAlester, Oklahoma of a Wild Boar kill.
The next Wild Boar hunt was on September 13, 2019 near Ashland, Oklahoma.
This Sow Hog was killed on December 19, 2019.
Return to Home Page