Trout Fishing Lures Review at the Rio Grande Reservoir, near Creede, Colorado.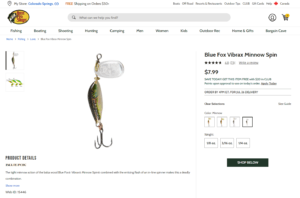 These Lures are Beating Everyone
No joke, after trout fishing here in Colorado for the last three summers, we can honestly say, from our personal experience that these trout fishing lures are helping us catch trout at probably a 5 to 1 ratio compared to other fishermen around us.
These are the spoon lures we're using below.
Here are the spoon lure names with links to where you can buy them.
Fishing Lure History
We started trout fishing in Colorado for the first time in the summer of 2019. Mike talked to a lot of people before that trip and had a lot of lures he brought with him to try out.
We found out that the Dardevle Eppinger and the ACME Little Cleo spoons were performing the best that year. The following year we were back for more fishing adventures and again we found the Little Cleo spoon gave us the best results.
This year we were back at South Fork, Colorado and were fishing the South Fork of the Rio Grande River, but then we decided to try our luck at the Rio Grande Reservoir just west of Creede, Colorado. Mike started out with the Dardevle Eppinger and Rachael started with the ACME Little Cleo spoon but Rachael was the first to make the observation that most of the trout we were catching had a green color to them.
Fortunately for Rachael and her observations, she switched to the Thomas Buoyant 1/4 Ounce T102 spoon lure and never looked back. She absolutely out fished Mike from then on as he stayed with the Little Cleo spoon until he realized Rachael was right. After Mike switched, he also started catching more trout with the Thomas spoon lure.
You can see more about Trout Fishing Lures below in this YouTube video, followed by a video of all of Rachael's catches over two days on the Rio Grande Reservoir.
This product was presentation was made with AAWP plugin.
This product was presentation was made with AAWP plugin.
This product was presentation was made with AAWP plugin.
Return to Home Page