I'm sure that most of you know that Simms is the leader in waders in the fishing industry, but what about all of us that don't want to spend up to $900 on spectacular Simms Waders, and don't forget the Simms Fishing Boots? You need to check out these Paramount Fishing Chest Waders. They work extremely well, and won't leave you broke at the end of the day.

DEEP EDDY Breathable Stockingfoot Chest Wader – Features
Waterproof
6-Ply Full Wrap
2 Top Entry Chest Pockets
Large Pass Through (Hand Warming)
Wide Suspenders
Elastic Belt
Stockingfoot Wader
DEEP EDDY Zippered Breathable Chest Wader
Waterproof
Front Zip Opening
Two Zip Fly Box Pockets
Double Layer Reinforced
Wide Suspenders
Elastic Belt
Stockingfoot Wader
Wader Field Test
Mike was really looking forward to testing these new chest waders out on our recent trout fishing trip near Lake George, Colorado. There was a little concern when he bought the Paramount waders instead of going with the more expensive and well-known brand name of Simms. I even gave him some grief about it.
Well, we hit the river Saturday morning and Mike fished all day in these waders. It was just after lunch when I asked him how he liked the Paramount Waders and Paramount Fishing Boots, and let me tell you, I got an ear full and a lot of video of him testing them in the South Platte River near Lake George, Colorado.
There were several things Mike really liked about these waders and boots:
He liked how warm his feet felt.
He liked all the pockets and pass-through hand warming pocket.
Mike really raved about how well the boots gripped the rocks.
Warm Feet
We all know how miserable it can be hunting and fishing with cold feet. That was not a problem on this fishing trip with these new Paramount Waders. Mike was wearing a normal pear of socks and not one of the extra warm pair. There's not much more to say here, other than Paramount passed this test.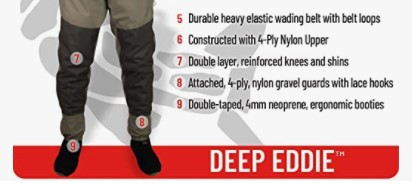 Convenient Pockets
For years, Mike has been fishing in his shorts and t-shirt. It's only been since 2020 that Mike and I have started trout fishing in Colorado, rather than bass fishing in lakes and ponds in Oklahoma.
I have been telling Mike he needs to upgrade his gear and look a little more like a fisherman, but you know how friends can be. Sometimes they just tick you off on purpose… I think.
On this trout fishing trip to Colorado, Mike was noticeably happy about how convenient it was to carry his gear, plus having the security of protecting his keys in a zippered pocket. The pass-through hand warmers are a nice addition for any fisherman.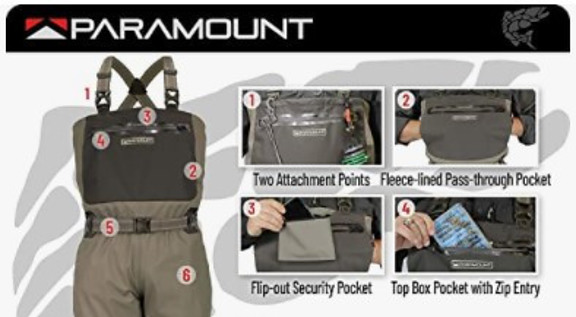 I don't think Mike will be fishing again in his old shorts and t-shirt. I'm sure you all will appreciate seeing him look more like a professional fisherman.
Fishing Boots
Honestly, I think Mike was the most impressed with the Paramount Fishing Boots. These boots not only had great grips, but they had steel wading studs, and with the rubber soles and metal studs, there was no slipping on the rocks.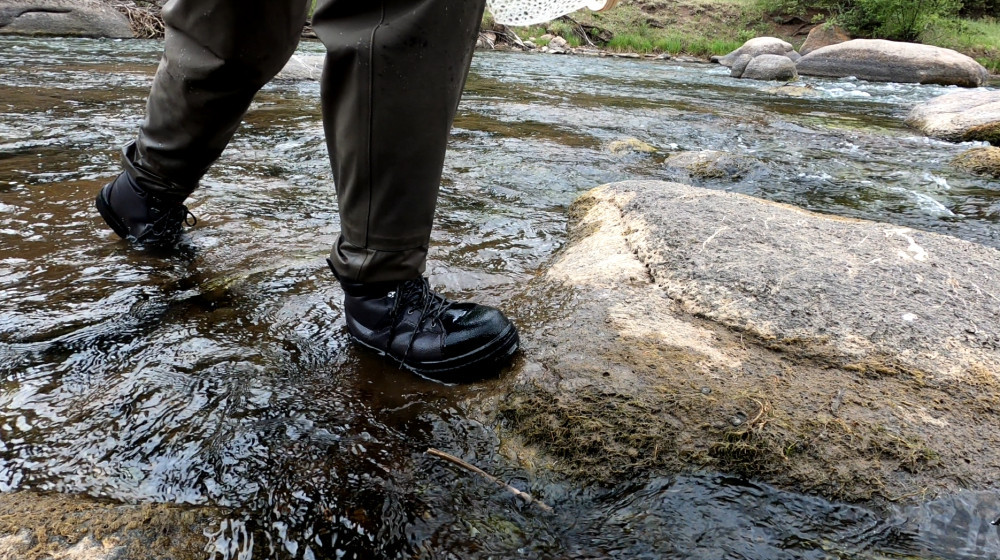 Mike was stepping on a lot rocks, he wouldn't have dreamed of stepping on in the past, to see how good they gripped. I was there, and I can attest that they did the job perfectly. I was wearing sandals, and even though I could step in the water, I did not have the same confidence Mike had to move around the river quickly, without fear of slipping and falling.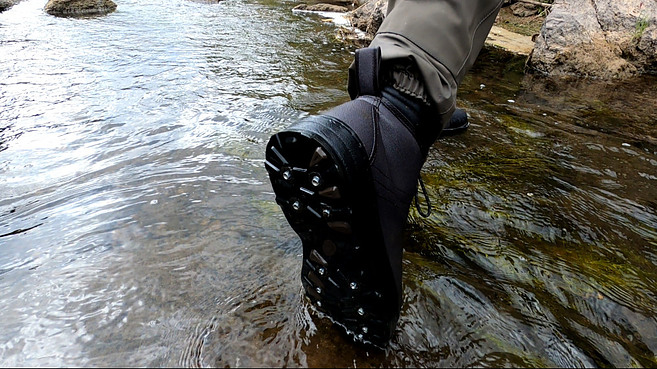 Final Thoughts
This was a great buy for Mike. He really liked the quality of the waders and was extremely happy he saved some money by buying Paramount.
I may end up buying the Simms waders, only to make him mad, but also so we can do a better comparison and field test in the future.
Bottom line, it was a smart purchase by Mike and he couldn't be more happy.
Honestly, I'm just glad to see him look like a real fisherman.
Check out this detailed field test video below of the Paramount Chest Waders and Fishing Boots.
This product was presentation was made with AAWP plugin.
This product was presentation was made with AAWP plugin.
This product was presentation was made with AAWP plugin.
This product was presentation was made with AAWP plugin.
This product was presentation was made with AAWP plugin.
Return to Home Page