Take a look at this powerful Garmin Montana 700i Review and field test. The 700i is built for off-road adventures and is packed with incredible features, plus has the convenience of a touch screen.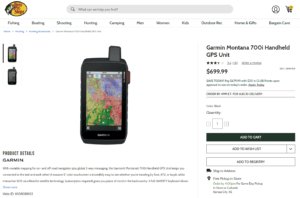 Montana 700i Features
Full QWERTY Keyboard
Global, Pole-to-Pole Satellite Coverage
Routable Topographic Maps
Built for Thermal, Shock, Water and Vibration
BirdsEye Satellite Imagery
18+ Hours of Battery Life in GPS Mode
Two-Way Messaging
Interactive SOS
InReach Weather Forecasts
City Navigator Maps
Topoactive Maps
Public Land Boundaries
Satellite Views
ABC Sensors
Active Weather
Dog Tracking
Wikiloc Trails
Multi-GNSS Support
Tracking
Expedition Mode
Vehicle Mounts
As you can see, the Garmin Montana 700i does not fall short with possibly more functions then any other satellite messenger on the market.
Montana 700i Review & Field Test
Mike got his firsthand experience with the Montana 700i early this summer, 2022. One problem though was that he headed into the Rocky Mountains here in Colorado without understanding some critical things about his new satellite messenger. I always do my best to let people know that they need to test their new Garmin satellite messengers out at least a few times, but even more when you have a satellite messenger as powerful and full of functions like the Montana 700i.
Mike chose the 700i over the GPSMAP 66i for several reasons. First, he must bought a new ATV and his priority is really about mounting it on the ATV and traveling around SE Oklahoma hunting and looking for land to buy, plus exploring ATV trails here in Colorado. Second, He liked the larger screen, plus it's a touch screen, so you can type messages as you would on your cell phone.
I tried to talk Mike into a different satellite messenger, but in the end, he was correct. His priorities and how he uses his device is different from how I use it. I guess this goes to my point that there is not a perfect satellite messenger for everyone. You have to decide for yourself how you will use your device and what's important to you.
So, Mike headed to Colorado to meet me for our first trout fishing trip of 2022. I arrived in the area first, west of Deckers, Colorado, in order to find a good campsite, as they are first come, first serve. I had scouted the area out the week before so I knew there would be no cell service, hence the pressure I put on Mike to buy his first satellite messenger.
Mike purchased the Montana 700i only a few weeks prior to the trip and he didn't test it out thoroughly before he arrived in Colorado, which is why he got lost and took the long way around to our campsite. Thankfully, he did end up finding me, thanks to having a satellite messenger. We were able to communicate, and he eventually found his way to where I was at.
Even with Mike not understanding everything there was to know about his new Montana 700i, he realized how important it was to have a 2-way messaging satellite messenger when deep in the Rocky Mountains.
Side Note: After the fishing trip, Mike exchanged the Montana 700i for the 750i as it has a camera that gives each photo a GPS coordinate.
Final Thoughts
Mike liked having a larger screen, especially one that has a touch screen as it is easier to type out a message and move around the menus. Mike also likes to be able to use the 700i to get his driving directions, but the most important things he likes about it is the ability to call for help, send two-way messages and to be able to see his location on a map.
Later in the fishing trip, Mike and I sat down around the fire and talked about the importance of having satellite messengers with us on our outdoor adventures. It became obvious that he was sold on them and he now understands the importance of having one on his pack on our trips into the mountains. You can checkout our fireside chat in the video below.
[Fireside Chat on the Importance of Having a Satellite Messenger – COMING SOON]
Checkout the short YouTube video below where Mike talks about the importance of having a satellite messenger.
Garmin Montana 700i, Rugged GPS Handheld with Built-in inReach Satellite Technology, Glove-Friendly 5" Color Touchscreen
Features rugged military-grade construction and a 5" touchscreen display that's 50% larger than the previous model; offers easy viewability and includes versatile mounting solutions.Control Method:Touch,Application.Special Feature:Routable Topo Maps; Multiple GNSS Networks, ABC Sensors; inReach Satellite Communication; BirdsEye Satellite Imagery.
Trigger an interactive SOS to the GEOS 24/7 monitoring center — two-way messaging via the 100% global Iridium satellite network (active satellite subscription required; some jurisdictions regulate or prohibit the use of satellite communications devices).
Multi-GNSS (GPS and Galileo) support — plus preloaded TopoActive maps and City Navigator street map navigation; navigation sensors include 3-axis compass and barometric altimeter
Pro-connected with ANT+ technology, Wi-Fi connectivity and BLUETOOTH wireless networking, giving you direct-to-device access to BirdsEye Satellite Imagery downloads, location sharing, Connect IQ app support and more
Compatible with the Garmin Explore website and app to help you manage waypoints, routes, activities and collections, use tracks and review trip data from the field
This product was presentation was made with AAWP plugin.
Return to Home Page