While waiting for the big bucks to show up we captured this white tail deer video using a thermal scope.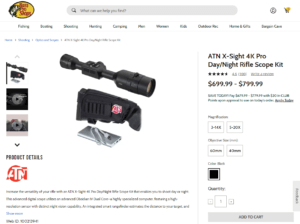 Thermal Photos of White Tail Deer
See the white tail deer video below on YouTube.
ATN THOR 4 640 YouTube Video
Here is YouTube video of the whitetail Doe using the ATN THOR Thermal Scope.
Sale
ATN Thor 4, Thermal Rifle Scope with Full HD Video rec, WiFi, GPS, Smooth zoom and Smartphone controlling thru iOS or Android Apps
Ultra Sensitive Next Gen Sensor - Is capable of capturing crisp clear images at the furthest ranges with improved resolution, higher sensitivity, and smooth gradations even in total darkness
Ballistic Calculator - Hunt responsibly by making sure your shot hits the target Each and Every time
Range, Wind, Multiple-Weapon Profile, Angle to target, Temperature, Humidity, Plus more. Helps you determine exact ballistics for expert long-range shot
Dual Stream Video Recording - You asked and we listened ThOR 4 not only Streams Video to your mobile device at HD resolution and can simultaneously Record to the SD card inside
This product was presentation was made with AAWP plugin.
Please Like, Subscribe, Share, Turn on Notifications and Leave a Comment below.
Return to Home Page