I have been working on several intros for our YouTube videos and this was one of the first times in a long time that Mike and I were together in Colorado and attempted to get our video introduction right.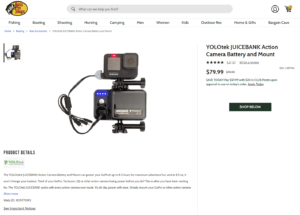 We hope you enjoy our website and YouTube channel. Please leave a comment below if you have any great ideas for new locations we should add to our list of places to hunt, fish or hike.
Sale
GoPro HERO11 Black - Waterproof Action Camera with 5.3K60 Ultra HD Video, 27MP Photos, 1/1.9" Image Sensor, Live Streaming, Webcam, Stabilization
Revolutionary New Image Sensor: expansive field of view ever on a HERO camera out of the box. This gives you an extra-large canvas for your creativity by capturing more of the sky and horizon in every shot. Zoom in, crop your shots, change digital lenses, adjust aspect ratios and more while keeping the rich textures and sharpness of your footage..Maximum Video Bit Rate : 120Mbps. ISO Range - Video : 100-6400, ISO Range - Photo : 100-3200, Exposure Control : Yes, Operating Temperature : -10º C - 35º C.
Unbelievable Image Quality: With 5.3K video that gives you 91% more resolution than 4K and an incredible 665% more than 1080p, HERO11 Black captures the action with crisp detail and cinematic image quality. A water- repelling lens cover even helps eliminate lens flare and other artifacts to make your photos and videos even more stunning.
High-Res Photos + Videos, High Frame Rate: HERO11 Black's new image sensor boosts photo resolution up to an incredible 27MP while delivering 5.3K60 video with amazingly fluid motion that you can use to grab stunning 24.7MP stills of your favorite shots. Plus, record 2.7K240 video that can be played back in 8x slo-mo to catch details that can't be seen at normal speed.
Emmy Award- Winning HyperSmooth Stabilization: HyperSmooth has never been better. And now it's won a huge award for its insanely smooth footage—a 2021 Emmy for In- Camera Sensor and Software Stabilization. HyperSmooth 5.0 raises the bar even more with Horizon Lock, improved stabilization for 4:3 aspect ratio footage thanks to our new image sensor, and AutoBoost for maximum stabilization with minimal image cropping. Bike, skate, ski, chase your kids through the park or get some awesome pet POV shots—even the shakiest footage comes out silky smooth.
What's Included: HERO11 Black Camera, Enduro Battery, Carrying Case, Curved Adhesive Mount, Mounting Buckle + Thumb Screw, USB-C Cable
This product was presentation was made with AAWP plugin.
Return to Home Page